Expertise

We help building bridges: Between employees of different countries, between colleagues and between employees and management. In this work we rely on our network of high-profile specialists in labour law, ecomomics and social sciences across Europe. In advising European Works Councils, we incorporate our experience from comparable situations in other companies. As independent advisors we can help you stay on track during information and consultation with management.

Negotiating EWC Agreements

Just one third of all companies covered by the EWC Directive have set up a European Works Council. We help by providing detailed advice concerning any issue from the initial contact to your colleagues abroad until the signing of the Agreement. For international projects we benefit from long-lasting working relationships with our partners in different European regions. In a significant number of companies we have drafted the initial requests for a EWC on behalf of the employee representatives. In more than 100 companies we have been assisting in the negotiations with the employer on a new Agreement. Whether global player or medium-sized company: EWC agreements negotiated under the guidance of TCi go way beyond the minimum legal requirements. Even in countries with hardly any traditions of works councils such as the the United Kingdom or Ireland, we achieved remarkable results. For illustration, the European Foundation for the Improvement of Living and Working Conditions has praised our EWC Agreements at British Airways or the logistics company Wincanton as "the most innovative Agreements ever concluded in the UK".
"Dear Hellmut, You are an EXPERT indeed; without you we would have been lost and never would have obtained an agreement of this quality despite the compromises done. Looking forward to have you as our expert in the future! THANKS!!!!" Anders F. (Denmark) Atos SE


Regular EWC expert advice
European Works Councils are legally entitled to be adviced by external experts of their choice. According to European law they can call in experts at any time unless this right is restricted in their EWC Agreement. Expert can be  hired to support EWCs in  meetings but could also be involved for studies, research projects or legal advice outside meetings. In many companies a standing expert advises the EWC and the Select Committee on a regular basis. Such a permanent mandate we were given by a number of multinational including DHL, British Airways, Wincanton, Cargill, Oracle or FCI.

EWC meetings may be combined with site visits and plant tours. For our customer Cargill (an US-based food company) we negtotiated an EWC agreement which permits the Select Committee to visit in addition to their regular meetings twice a year locations in different countries.. Such visits include plant tours but also meetings with local works councils and employees to promote greater visibility of the EWC within the company.
Example DHL: The former state-owned federal post operates today under its global brand DHL all around the world. With 54 representatives form 29 European countries the company has one of the largest European Works Council. The coordination with management is arranged via five Business Committees which operate under the roof of a joint Select Committee. Hellmut Gohde (TCI) acts as the permanent expert for the employee reps since 2001.


Example EADS: The employee representatives of the aviation company (e.g. Airbus) mandated us with a research project on the planned merger with the Italian defence company Alenia-Aeronautica. Together with our Italian partner we were able to explore merger plans and to assess their potential impact on employment. Together with unions and works councils from all countries involved we agreed on a joint strategy. Eventually, the merger could be avoided and a significant number of jobs were secured.  


Expert Advise in a nutshell

Assisting and facilitating EWC meetings (incl. preparatory meetings).

Regular advice to EWC Chair / Secretary and Select Committee

Informing on latest changes in European labour law
Supporting negotiations with management

Drafting formal EWC Opinions

Guidance on the local election procedures in all European countries


Recommending and preparing interesting topics for the EWC work

Ensuring full participation by arranging elections in EU member state countries

Preparing training projects

Advising in special meetings on restructuring, closures, redundancies, relocations

Setting up EWC work programs (e.g. working time, health and safety vocational training)

Strengthening the information and consultation rights

Analysing new management proposals such as outsourcing, shared service centres, business reengineering etc.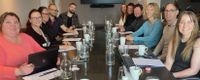 Valneva is a biotech company headquarterd in France specialised in producing vaccines. The company was created as a European Company (SE) in 2013. Since 2016 Hellmut Gohde is advising their "International Works Council (IWC)" on a regulasr basis.